Since this is my first post of my teaware, I decided to write about how I and ancesters got involved in tea through teaware. I like to think that we all have our free choices to decide what we become of, but sometimes how I reached the path of tea makes me feel that it was all ingrained in me in my youth. Perhaps my family thought I would be in pottery business instead of tea, but alas, life works in a mysterious way.
Kutani Tea Pot – Aka Kujaku (Red Peacock)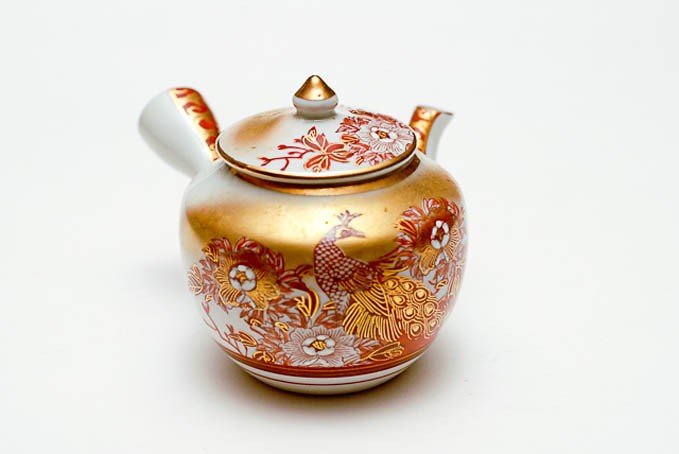 Kutani is a regional brand known for vibrant colors and intricate patterns of painting on porcelain. It is located in rural part of Ishikawa prefecture by Japan sea. There are many painting styles that have developed in that region, but I will discuss that some other time. My family has been in Kutani ware business over 100 years since my great grandfather's time so inevitably there will be a lot of old and new kutani in my collection as well. Some of which are from my great grandfather's time.
Here is a link to Kutani Museum. You can learn Kutani basics here.
One of their traditional style is known as akae or "red paint". Also known as Iidaya style. This style of painting uses mainly red and gold paint which gives distinct look to the porcelain.
This piece is known as "aka kujaku" or red peacock produced in my grandfather's time and one of my favorite peice to display. Peacock and peonies are painted in red, gold and white paint. This is all hand painted by seasoned Kutani painter.
Typically, red and gold paints are flat and used in drawing patterns and lines compared to other colors like green, blue and yellow often used in Kutani painting tend to give more texture. Above picture of peacock shows intricate patterns of peacock feathers in red and gold paint and careful yet smooth strokes of each brush movement. White paint gives different texture because it is glaze type paint, hence finish kiln temperature is also differernt.
I remember that Akae master and prefectural cultural treasure Buzan Fukushima once told me that each color paint requires certain kiln settings, temperature and cooking time, that careful planning of design, placement of colors and patience like a mountain are necessary.
I don't have the refined eye to judge the true quality of Kutani painting, but since I have done some porcelain painting myself as I was growing up, I can tell how difficult it is to just draw a simple line.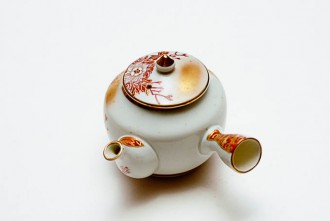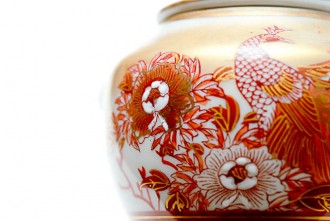 The handle angle of this tea pot is much narrower than 90 degree which my first instinct tells me that this tea pot is not designed for big Japanese man like myself. After all this tea pot is part of gyokuro set that come with coolor / pitcher, and five gyokuro cups. Tea pot is very small and only holds about 4-6 oz of water. I have used it several times with contest winning gyokuro, but I personally do not use it normally, but like to watch it on display shelf just like many of other Kutani pieces.
The strainer inside the pot is also made of porcelain. Unlike metal strainer, it does not give odd metallic taste in tea.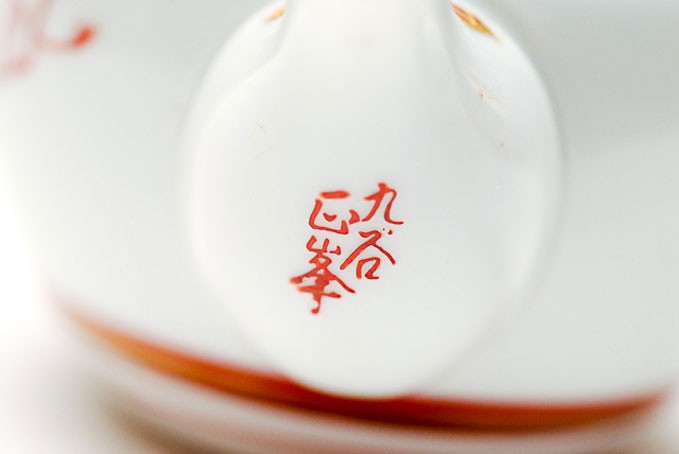 The photo above shows the kiln signature "Kutani Seiho", now my father is the 3rd generation.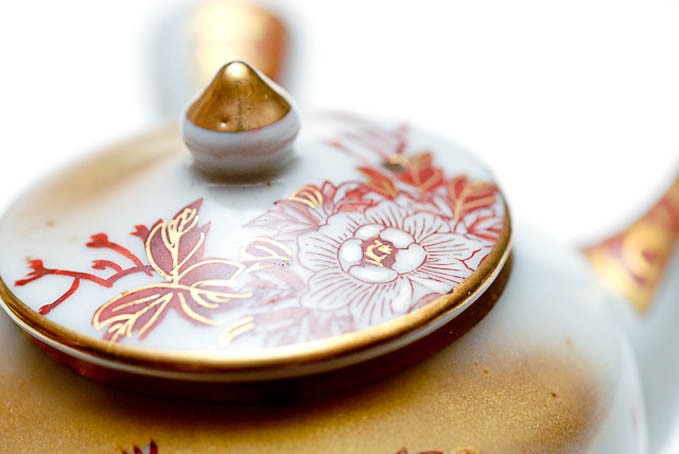 Teaware Info
| Item Name | Kutani Tea Pot – Aka Kujaku (Red Peacock) |
| --- | --- |
| Kiln | Kutani Seiho |
| Style | Akae (Red paint) Hand painted |
| Region | Kutani, Ishikawa Pref, Japan |
| Price | ?? USD |