Gathering
A light morning wind blew gently over rows of neatly planted tea, a light mist resting within the 'ohia canopy. The weather had been calm and dry the night before, the light of the full moon shining intensely across these same fields, pale, white light individually spotlighting each leaf. This was our first morning of picking the first flush of the new year, and it was an exciting time to be at Mauna Kea Tea. The goal was to pick for 4-5 hours, finishing before the forecasted afternoon rains. It had been a wet week prior and this was our chance to get a harvest in at the right time, with the right weather and the right staff on hand. Dry conditions were critical while harvesting, so I felt grateful that sunshine and warmth emanated from the sky.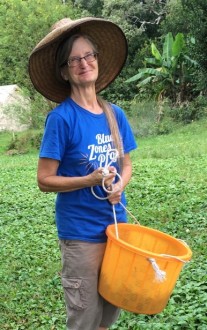 Now the moment had arrived! I was joining a team of experienced pickers, including farm owners Kimberly and Taka Ino, year-round employee and nursing student Kayla, and returning seasonal tea picker Auntie Harriet. (For those of you that don't live in Hawaii, adding the prefix Auntie or Uncle to someone not part of immediate family is a common way to communicate respect, affection and inclusion.)
Curious about what this experience might be like, I asked Kimberly what she liked best about picking tea in the spring and she replied with a smile, "I feel lucky to be able to work outside with people and plants that I love. When I quiet my mind and focus on the leaf, enjoying the comradery in the field, I am truly at ease. I'm happy to pluck these beautiful leaves which I know will be transformed into something life sustaining." Wow, I thought. There is a depth to this process that I am just beginning to dip my toe into!
As our growing group of pickers gathered by the beige tool shed at the base of the fields, I observed our tools. Orange picking buckets with ropes attached would serve as sturdy containers to hold the tender tips. Large, circular, plastic colanders would hold the group's pickings after individual full baskets were weighed and recorded. Both of these, Taka had mentioned the day before, are traditionally made from bamboo. These baskets would be located in shady patches to keep the leaves cool and protected from sun. A thrill of excitement heightened my senses as I picked up my orange basket and walked to the top of the first row.
In the Field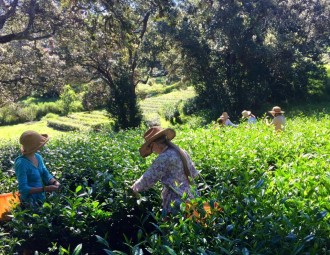 Two people started down the rows picking across from each other, scanning the tea bushes for tall and short new growth tips, keeping their baskets as shaded as possible. The sun's powerful rays begin to oxidize the tender tips if left out in the sun, thus changing its flavor. My own basket was slung over my shoulder and bounced gently at my hip as I added leaves to its contents. I watched Kayla's speed and efficiency in awe. Taka says the most important tools used in the field are our fingers. Kayla clearly had a handle on this! "How long does it take to get the hang of it?" I asked. "Maybe a few weeks of harvesting," she said, "but I'm still learning every time I come out!" That humble attitude, I noted, seemed to be a recurring theme at Mauna Kea Tea. Humility and a growth mindset were just as important as accomplishing a task.
Picking the Leaf
There are different cultivars of camellia sinensis throughout the fields. Plants at the bottom of the fields have leaves that grow to a large size very quickly, while the ones uphill are Japanese varieties which have smaller leaves even after a growth spurt. Every 5 days a leaf opens up, so the approximate timing of the harvest can be calculated a few weeks in advance. This also indicates what kind of harvest it will be. There is a 3 leaf open stage and a 5 leaf open stage. Therefore, a 2 leaf harvest at each stage looks different, even though you are picking the same part. The goal is to pick at the soft point of the branchlet. Fibers will be visible at the snap point if you picked where the branchlet was too old.
As I reached for what must have been the 300th tip, feeling carefully for the right place to snap the small stem, I realized we had come to the end of the row. Kayla and I switched sides, and began walking back up each other's row to double check that no tips had been left unharvested. Looking out across the fields, Auntie Harriet and Kimberly had finished their row and double-check, and were already mid-way through their second row!
It was a sweet feeling being among these women in the fields. The conversation flowed on a variety of topics from farmers' market goods to family recipes. It made me think of a story Taka had recounted about young Japanese girls singing tea-picking songs together in the fields as they picked. They would travel up the mountain from tea farm to tea farm, following the emerging first flushes as they went, and looking for a romantic encounter with their future husband, a handsome tea maker perhaps. I smiled to myself and looked down into my basket which was getting heavier by the minute. Time for a weigh in!
Final Harvest Steps
A simple scale and basket that had been zeroed out helped us record how many grams of tea we had harvested. We also recorded our start and stop times. Picking 1 kilo or about 2 lbs per hour is considered a fast rate for experienced pickers at Mauna Kea Tea. I weighed in at just 500 grams after my first hour picking. I noticed Kayla had picked 1089 grams, Auntie Harriet 965 grams, and Kimberly 1124 grams.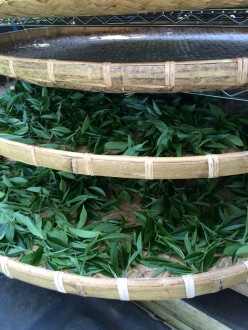 I recorded my start and stop time and weight, and carefully poured my tea leaves onto the bamboo trays pictured at right. Then, I headed back out into the fields to continue with Kayla down our row.
By the end of the day, our team had picked 12.6 kilos, or 28 lbs, of fresh harvested leaf. This total would be reduced by 75% after processing, reflecting the loss of water in the leaf. As we gathered a final time in the shade to weigh our last harvests and stack our orange buckets, the first of the raindrops began falling from the sky. Noting the impending rain, Kayla, Auntie Harriet, and I quickened our conversation sharing observations from the day's experience and gathered our belongings. "See you Thursday!" Kayla said. And "Alright a hui hou!" exclaimed Auntie Harriet. Kim and Taka also expressed their thanks and farewells and immediately drove the tea uphill to processing to keep it from getting wet. One by one our group dispersed for the day, heading back to our lives after this respite in the tea fields. I left at ease with anticipation of the next gathering to once again enter the beckoning fields of tea.
Stay tuned for our April blog article about Processing and Drying the Tea,
3rd and last in the series about the First Flush of 2016!