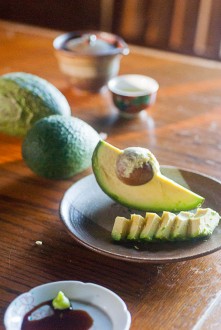 My favorite green tea and avocado combo is premium green tea infused sake and avocado sashimi. Avocado is rich and creamy, and texture reminds me of toro, or fatty tuna and uni, or sea urchin. Mauna Kea Premium green tea is cold infused at room temperature for 5 hours in Kikusui junmai ginjo sake. 1 tablespoon (0.25oz) of green tea to 1/2 cup of this sake is a bit more than what I would use for brewing in hot water. I first got the idea of infusing green tea in alcohol from chemical analysis done at University of Hawaii, Hilo (UH Hilo). They extracted and measured EGCg, Theanine and caffeine contents of green tea with boiling water, but what struck me was that their baseline concentrations of EGCg, Theanine and caffeine were extracted with methanol for 1/2 hour. MK premium Green extraction
| | Theanine % | Caffeine % | EGCg % |
| --- | --- | --- | --- |
| Boiling water | 0.45% | 0.35% | 0.83% |
| Methanol | 0.11% | 0.28% | 1.73% |
High level of EGCg makes alcohol extraction bitter?
Methanol extraction showed high level of EGCg even at low temperature. EGCg is known for bitter taste so does this make it taste bitter? Much like tincture alcohol extracts and preserves essential chemical components in healing herbs and makes it more readily available for the body to assimilate. Does green tea also benefit from alcoholic extraction? Sake is not as strong as vodka or pure ethanol, but perhaps more enjoyable and it can be a unique culinary experience.
How does it taste?
When I tried this first time after 2 hours of infusion, I was truly delighted. Subtle taste of theanine and amino acid sweetness and richness was enhanced by 15% alcohol of sake. Not bitter. It reminds me of rich forest soil, earthy and calming.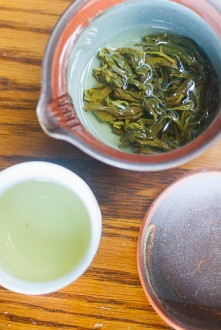 Quality of sake is also very important for this culinary experience. There are many characteristics in sake that makes some sake more compatible with tea infusion than others. While some enjoy spicy and dry, others sweet and fruity. I suggest you try green tea infusion in different sake to find what best suits your taste.
I also tried infusion for one full day. It gives slightly more bitterness, but this bitterness actually helps create contrast with sweet kikusui junmai ginjo at the time I was sipping. Sweetness of Kikusui junmai ginjo definitely tame the bitterness of catechins and added different spectrum to green tea experience.
You can also enjoy second infusion after initial short infusion much like brewing tea in water. Leaves tend to open slowly in cold infusion. My next one will be infusing in hot sake.