Currently we are unable to offer farm tours. Sorry for inconvenience.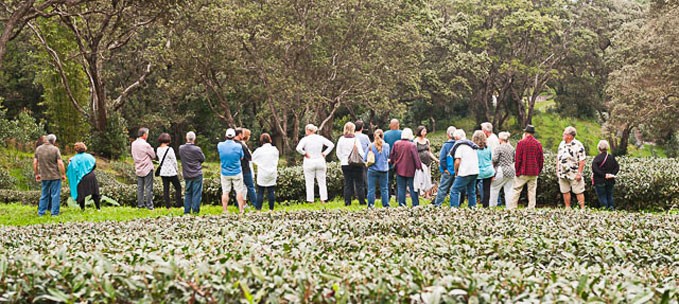 If you are interested in visiting us to more fully experience the tea, consider taking our farm tour and tea tasting. We will take you out on a guided walk in our tea fields and provide a tasting of our seasonal teas in our tea room. You will see the tea plants, soil, insects, weeds, and other tropical plants present in the farm ecosystem.
Following the walk, taste our seasonal teas at our tea tasting room. We discuss tea processing as it applies to us but we do not tour the processing facility.
The tour typically lasts about 1.5 hours. Please arrive no more than 10 minutes early, as we will be waiting for other guests to arrive before starting. Additional visitors may be added to your party until we reach an average tour size of 10, compiled of other adventurous tea drinkers from various backgrounds. Depending on the need, we can accommodate up to 20 guests per tour.
We aim to share our learning and appreciation of natural farming and the rural lifestyle through tea tasting and touring the farm. We hope you will take time to find a deeper connection with nature and an appreciation for the way of tea.
---
Please read the yelp and trip advisor reviews to see if this tour is right for you.
---